Types Of Cranes
Cranes are usually seen in construction zones for larger buildings as they have the ability and power to move great loads of materials upwards, downwards and horizontally. Originally cranes were powered by steam but newer cranes for sale use electric motors, hydraulic power or an internal combustion engine. They are operated by a skilled individual who has been trained or has experience in the usage of cranes and must have the ability to be very accurate as he is moving very heavy items which can cause accidents, if they are not placed where they are supposed to be. Even the smallest mistake can have huge repercussions and can even lead to loss of lives. The use of crane Australia makes the movement of construction materials very easy which would otherwise take a lot of man power and would be very time consuming. The first crane was used by ancient Greeks and since then cranes have developed a lot and become a crucial part of the construction industry.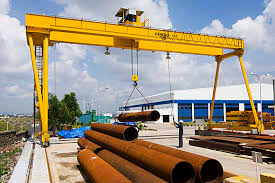 There are many types of cranes for sale:
Tower cranes are a common sight in large cities and is widely used in urban construction sites. The machine is anchored to the ground on a concrete slab and provides a very balanced combination of height and lifting capabilities. They are often used to construct multi-story buildings and consist of a mast that has a platform on top known as the stewing unit. It has two arms which are horizontal, one is used for lifting and the other has heavy concrete blocks which act as a counter weight. It is controlled by a driver that either sits at the top of a tower in a cabin or uses a remote control to control the machine from the ground.
Mobile cranes are placed on wheeled vehicle and can be used in railway work. There are many typed of mobile cranes such as mobile tower cranes and serve different purposes. They have a transportable platform with a lifting arm.
Telescopic cranes are powered using a hydraulic mechanism and has steel booms that can be extended and retracted. They are usually mobile and used in rescue services and for retrieving boats near a waterside.
Static cranes are installed in a certain place and cannot be moved around.
Giant Cantilever craned have a strong central tower made from steel and has lifting machinery on one end and a counter weight on the other.
Level-luffing cranes have a mechanism that allows the crane hook to stay on a constant level and any movement will only allow the hook to move forward or backward. This is ideal for work where precision is necessary.
Crawler cranes are a type of mobile crane and are fitted with caterpillar tracks that allows them to be used on soft ground where other vehicles can't be operated. They are used in the initial stages of construction where materials have to be moved over soft soil.